HUBRINA
HUBRINA - HUman-roBot co-woRking IN Agricultural master-slave systems A master-slave robot control for agricultural activities will be developed and its feasibility demonstrated in...
more

KANMAN
KANMAN - KAN ban integrated, magnetic orientated modular mobile MANipulator The Kanban system is a widely used production control method for JIT (just-in-time) production. It is often...
more

C-KOMPAI
C-KOMPAï - Providing Cognitive capabilities to the KOMPAï Robot with the addition of a Cognitive Brain The CBRAIN (Cognitive Brain for Service Robotics, developed by C-ROBOTS) is a...
more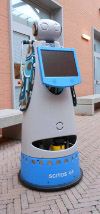 ASTROMOBILE
ASTROMOBILE - Assistive SmarT RObotic platform for indoor environments: MOBILity and intEraction The ASTROMOBILE project aims to develop and demonstrate that a smart robotic mobile...
more

MUCE
MUCE - Modular underwater cleaning equipment There are three partners in the MUCE experiment. WEDA is a market leading producer of professional pool cleaners. KTH is the academic partner...
more

OMNIWORKS
OMNIWORKS - Omnidirectional vision for human-UAV co-working OMNIWORKS involves 3 partners with widely experience in visual algorithms and control of Aerial Vehicles (UPM-CVG), developing...
more
1 (total result pages: 1)