Seconda Università degli Studi di Napoli
The research and educational activities of the Dipartimento di Ingegneria dell'Informazione of the Seconda Università degli Studi di Napoli include several scientific areas, ranging from control theory to physics.
The research activity in the field of control theory is mainly focused on active vibration and noise control, robust control with application to aeronautic and aerospace systems, control of mechanical systems, robotics and mechatronics. In this last field, the Automatic Control Laboratory is currently working on the development of novel sensors for robotic applications, where the requirements are becoming more and more demanding, especially in the service robotics domain. Therefore, new technologies have being explored, from optoelectronics to MEMS. Along the same line of research, investigation of innovative actuators has being carried out aiming at developing lightweight and powerful actuation systems by exploiting the capabilities of smart materials and structures. The research in this field is supported by a number of projects mainly funded by the European Commission under the Seventh Framework Programme.
A short list of other research activities and competences of the department follows: non-destructive electromagnetic diagnostics, microwave tomography, devices and sensors based on optical fibres, identification and electromagnetic characterization of thermonuclear plasmas, conversion, measurement and control of electric energy, quantum computing and superconductivity, high performance computing and networking, signal processing methods.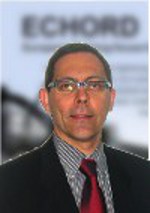 Ciro Natale is Associate Professor of Automatic Control and Robotics at the Department of Information Engineering of the Second University of Naples. From November 1998 to April 1999 he was a visiting scholar at the German Aerospace Center in Oberpfaffenhofen, Germany. His research interests include modeling and control of industrial manipulators, force and visual control, cooperative robots, as well as modeling and control of flexible structures, active noise and vibration control and modeling, identification and control of smart actuators. He has published more than 70 journal and conference papers, he is author of the book: "Interaction Control of Robot Manipulators Six-degrees-of-freedom tasks" (Springer 2003) and co-author of the book: "Active Control of Flexible Structures" (Springer 2010). From 2007 to 2008 he was a member of the Conference Editorial Board, as Associate Editor, of the International Conference on Robotics and Automation (ICRA). Since 2009 he has been an Associate Editor of the IEEE Transactions on Control Systems Technology. He has been and currently is Team Leader of numerous European projects.
For more details: http://www.dii.unina2.it/Utenti/cnatale/