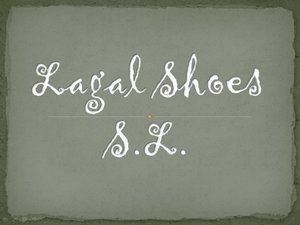 About us
LAGAL SHOES is a family-owned company with over 20 years of experience in the footwear sector. We produce medium-high value woman shoes for important clients like TEMPE, member of INDITEX GROUP (Zara, Pull and Bear, Massimo Dutti, etc). TEMPE is currently capable of producing more than 33 millions pairs of shoes each year.
The desire for innovation and constant improvement is the motivating idea, which has guided LAGAL to the present time. Bearing this idea in mind, we have been in contact with Universidad Miguel Hernandez from its creation in 1998. From this relation, some innovations related to improvements of the manufacturing process and quality control system have already been transferred from the university research to LAGAL.
What motivates us
Research, development and investment in research of new technologies has always been in forefront of LAGAL SHOES mind. However, LAGAL is a small family owned company and it is quite difficult for a company like LAGAL to participate in European programs with high value research institutions. ECHORD framework gives us the opportunity of solving concrete problems with the help of high quality of research partners.
How to contact us
Lagal Shoes S.L.María del Mar SantaPartida de Saladas Poligono 203295 ElcheSpain
+34 965 681 407
lagalshoes@hotmail.com