Insewing
INSEWING - Development of a robotic manipulator of human tubular tissues for suture and support in anastomosis surgery interventions The aim of the INSEWING project is to develop a...
more

InterAID
InterAID - Interactive Mobile Manipulators for Advanced Industrial Diagnostics The main goal of InterAID is to demonstrate the feasibility of applying mobile robots with manipulation...
more
TESBE
TESBE - Technologies for Efficient and Safe Body Extenders Body Extenders are an emerging class of advanced robots that can be worn by human operators to dramatically increase...
more

HUBRINA
HUBRINA - HUman-roBot co-woRking IN Agricultural master-slave systems A master-slave robot control for agricultural activities will be developed and its feasibility demonstrated in...
more

JILAS
JILAS - Jig-Less Airplane Assembly in low volume production by enhanced human robot interaction JILAS focuses on "human-robot interfacing and safety". The core of the JILAS experiment...
more

COWBOI
Cowboi - Cooperative Welding employing Robot Intelligence In the COWBOI experiment, an integrated approach for a small lot-size human-robot cooperative welding systems will be...
more

KANMAN
KANMAN - KAN ban integrated, magnetic orientated modular mobile MANipulator The Kanban system is a widely used production control method for JIT (just-in-time) production. It is often...
more

GRASPY
GRASPY - Stereo Vision For Grasping by Humanoid Robot The personal robotics market will be a major industry in the 21st century. In order to integrate robots in our everyday life,...
more

MAAT
MAAT - Multimodal interfaces to improve therApeutic outcomes in robot-Assisted rehabiliTation The MAAT project aims at developing a new robotic system for the administration of highly...
more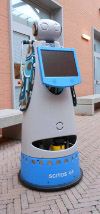 ASTROMOBILE
ASTROMOBILE - Assistive SmarT RObotic platform for indoor environments: MOBILity and intEraction The ASTROMOBILE project aims to develop and demonstrate that a smart robotic mobile...
more
1 (total result pages: 1)