Apr 4, 2012 , by
The secondary arm was succesfully added to the experiment setup. Some new hardware components were designed to make the desired mechanical connection between both robot arms and the gripper. The robot controllers were integrated in the iTaSC software framework to be able to easily synchronize the combined movement. Experiments have been performed successfully showing the robots capable of picking and placing boxes up to 10 kilograms. The remaining time of the project will mostly be used to decrease the cyclus time and increase robustness of the setup.
---
Jan 27, 2012 , by
Due to extensive simulations and experience with the first milestone, the experiment partners concluded that a double-robot grasp of boxes with the LWR would not work satisfactory to meet the second experiment milestone. For this, an alternative approach was choosen which still allows to lift heavier boxes. The experiment partners are now working out the mechanical design and software design to work towards the demonstrator by the end of April.
---
Nov 29, 2011 , by
The experiment started working towards the second milestone, a two-robot grasp of a box. The idea is that both robots pick boxes independently, until one encounters a too heavy box, in which case it waits until the other robot assists it in picking it up. The two challenges are to have the robots move without colliding into each other (how does a robot know where the other robot is going to?), and to find a way to control both robots when they jointly hold a box. To test these algorithms, a simulation environment is first setup such that no harm is done to real robots in the experimental phase of development.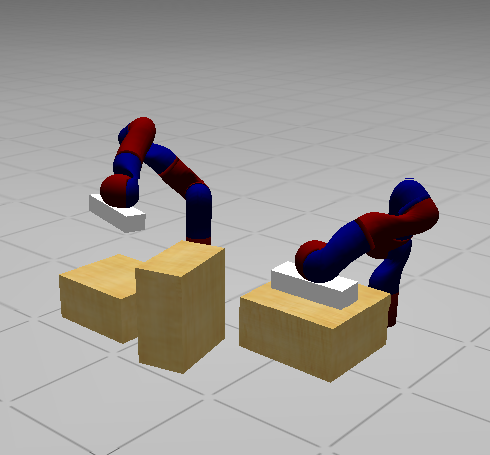 ---
Sep 28, 2011 , by
The ContainerBot experiment has completed its first major milestone experiment. A workcell was built which contains one the left side of the robot a corner with a pile of different boxes and on the right hand side a drop-off slope. The robot could clean up the pile of boxes of different shapes and weights and move them to a drop off point. With little time for fine-tuning the experiment, the robot did already very well and pick-and-places every box well below 10 seconds. The experiment will now continue to detect too heavy boxes and use two robots which jointly pick the box and bring it to the drop-off point.
---
Aug 30, 2011 , by
The ContainerBot experiment looks at new ways to empty standard shipping containers with new robot technology. This experiment uses one or two KUKA Lightweight robot arms to pick up light ( <5kg) or heavy ( <10kg) boxes of various sizes and shapes in unordered stacks. Applications are automatic emptying of parcell containers, assisting persons with robots for lifting or positioning of heavy equipment and flexible use of robots in factory work cells.
---